Sustainable Bamboo Razor - 2 Recyclable Blades
The all-natural bamboo razor that you've been looking for...here's the bamboo razor that men and women are using for a great sustainable shave, everyday. Made for a comfortable, quality shave with less plastic.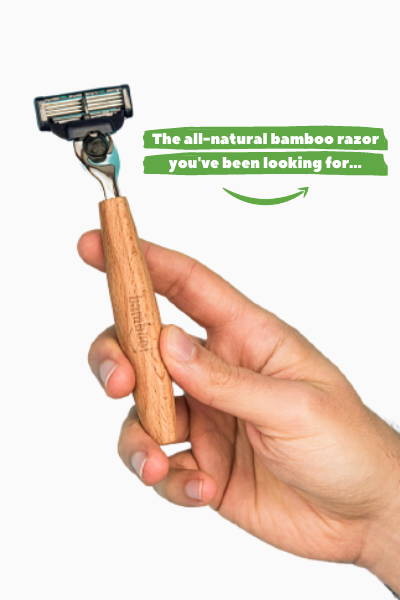 Return your blades to Bambooi and receive a big discount on your next pack. We're able to recycle our blades in bulk so the more you return, the better! For more information contact Bambooi support team or learn more here...
Need support? We're here!
Great eco conscious company, lovely products
Great eco conscious company. Lovely products. I bought a bundle with reusable make up wipes, cotton buds and a razor. The products were all beautifully made, all came in cardboard, absolutely no plastic and the price was very reasonable. I bought the razor for my teenage daughter who wanted non plastic but didn't fancy one with an actual razor blade. The bambooi razor is the perfect middle ground. Will definitely buy from again. Thank you 😊
Arrived quickly and as described on the website. I love it! It's so sturdy and fits standard razor heads, which was lucky as I had some leftover from my old Venus razor.
Great razor
Was looking for a plastic free razor & found this one & it's really good!
Razor blades
I'm so pleased I made the switch to these razor blades, they are as good if not better than any you buy in the shop and love the fact I'm not throwing anything in the bin!
A good switch
These blades are as good and the ones I had been using, packaged in a cardboard box which is great and I love the fact that I can send the used ones back for recycling. Im converted 🙂
Love it!!
Got my orders 2 weeks ago, duper impressed with the quality, works just as good as plastic alternatives and in my opinion looks better on the counter than a plastic one would!
Great eco alternative
I'm very happy with my new Bambooi razor. It looks classy, feels great in the hand and shaves as well as any other on the market.
Wish is discovered these years ago!
Prompt service + good quality goods
Razor and blades
The razor itself is lovely and comfortable to use but the new blades make all the difference! I am quite clumsy when it comes to shaving but they do a fantastic job! Highly recommend! :)
Loved It!
I ordered the razor as a birthday present for one of my friends - she loved it and so did I. The razor itself was lovely and made beautifully. The packaging was also eco friendly which was great to see - I will most likely be ordering myself one too!! The customer service was also brilliant - a hand written note was included which was a friendly and appreciated touch. Thank you!
What we picked for you...